St. Martins
Situated on the shores of the Bay of Fundy which feature the world's highest tides, St. Martins is a picturesque, historic village with a rich shipbuilding history. Highlights include: sea caves you can walk into at low tide, a working harbour with twin covered bridges, public gardens which include a replica of the original lighthouse now serving as a visitor information centre, Victorian homes, many of which are now inns or B&Bs, 3 beaches and a working lighthouse on Quaco Head. St. Martins is also "the Gateway to the Fundy Trail". The Fundy Trail Parkway boasts a suspension bridge, interpretive centre, hiking trails, graveyards, Randolph Hearst's former fishing lodge and impressive views of the Bay of Fundy. The area is the last undeveloped part of the coastline of Eastern North America.

The famous sea caves at Mac's Beach. Enjoy seafood chowder at one of the two restaurants that overlook the caves.
One of the twin covered bridges over Irish River.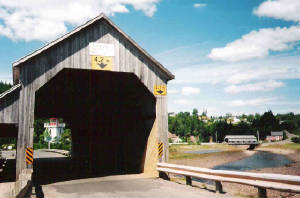 St. Martins is the only place in the world you can photograph two covered bridges in a single picture frame.
The Fundy Trail Parkway.
Eventually the Fundy Trail Parkway will be another access point to the Fundy National Park.