Prints are available in a variety of sizes, matted or as art cards. Art cards are $5 (taxes in) and feature an easily framed
4 x 6" image.
See Print Pricing
page for larger prints.
The legend of the WISH rocks follows.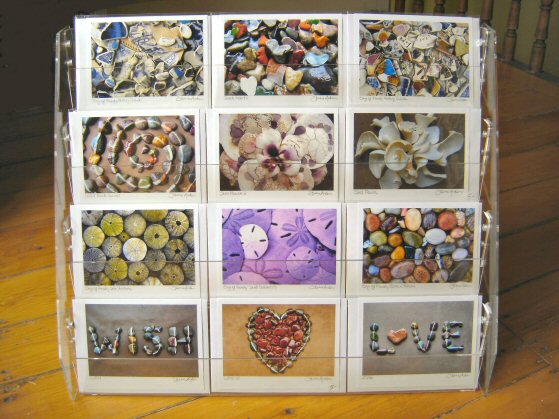 Top row l-r: B of F Pottery Shards 1 (blue & white), beach Hearts,
B of F Pottery Shards 2 (multi-coloured).
Next row: WISH Rock Spiral, Shell Flower 2, Shell Flower 1
Next row: B of F Sea Urchins 1, B of F Sand Dollars 7, B of F Beach Rocks
Bottom row: WISH, WISH heart, Love.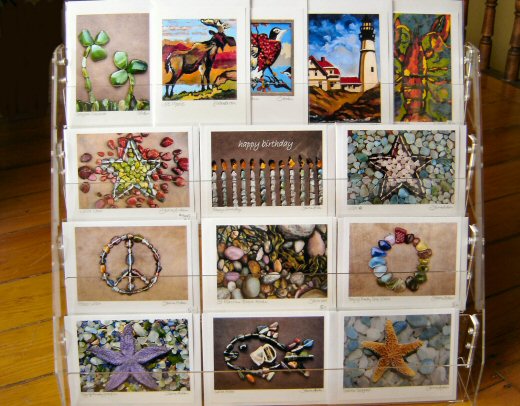 Top row l-r: Seaglass Shamrocks, NB Moose, Bait Band Robin, PBN Lighthouse, B of F Lobster
Next row: WISH Star (red), Happy Birthday, WISH Star (blue)
Next row: Peace WISH (brown), St. Martins Beach Rocks, B of F Seaglass
Bottom row: B of F Starfish, WISH Fish, Seastar/seaglass
The inspiration for working with WISH rocks comes from walking on the beaches of St. Martins, the legend of the wishing rocks and an interest in the amazing geology of the Bay of Fundy area, North America's first geopark, Stonehammer.
Wish rocks are typically a dark colored beach rock with a continuous unbroken line, usually a band of white quartz, encircling the rock. Finding one grants you a wish.
St. Martins has cobble beaches and an abundance of wish rocks in a rainbow of colours & textures due to the numerous types of rocks found along the Bay of Fundy. The highest tides in the world daily wash in a changing spectrum of stones.
NEW: To make ordering easier, the images are numbered.